Philippines vs Yemen in Asian Cup 2019 Qualifier (September 5, 2017)
The Philippines will face Yemen for the third time in almost two years, but this time in the Asian Cup 2019 qualifying game. In their first two face-off were World Cup 2018 qualifying games.
The Azkals will host the Yemeni footballers at the Panaad Park and Football Stadium in Bacolod City. The last time the Azkals were here was in 2013 during the Peace Cup friendly tournament.
To those who are interested to flock to the "City of Smiles" to watch our National Football Team, buy your tickets at all SM Ticket outlets nationwide. You can also purchase online through www.smtickets.com starting today August 18.
Ticket details:
Category 1 Blue Grandstand Seats – P500
Category 2 Yellow Grandstand Seats – P300
Category 3 Green, Red, and Orange Grandstand area – P100
Category 4 Bleachers – P50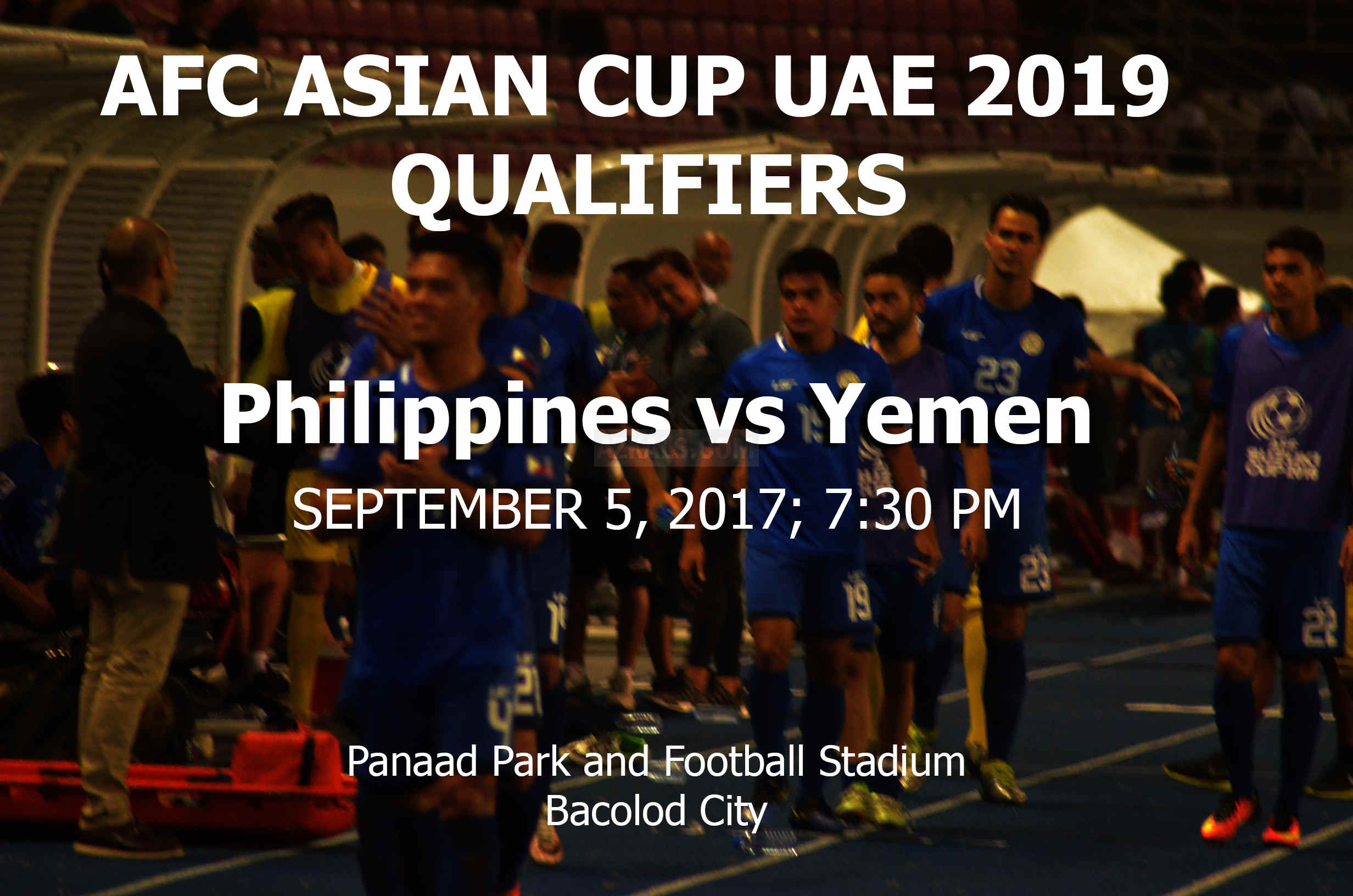 The squad selected to play against Yemen.
Misagh BAHADORAN – Global Cebu FC
Dylan DE BRUYCKER – Davao Aguilas FC
Carlos DE MURGA – Ceres Negros FC
Patrick DEYTO – Global Cebu FC
Neil ETHERIDGE – Cardiff City FC
Harry FÖLL – FC Hansa Rostock
Joshua GROMMEN – Ceres Negros FC
Kevin INGRESO – Ceres Negros FC
Tyler MATAS – FC Meralco Manila
Hikaru MINEGISHI – Global Cebu FC
Jim Junior MUÑOZ – Ceres Negros FC
Paul MULDERS – Global Cebu FC
Nicholas O'DONNELL – Davao Aguilas FC
Manuel OTT – Ceres Negros FC
Mike Rigoberto OTT – Angthong United
Stephan PALLA – Wolfsberger AC
Iain RAMSAY – Ceres Negros FC
Patrick REICHELT – Ceres Negros FC
Simone ROTA – Davao Aguilas FC
Dennis VILLANUEVA – Global Cebu FC
Luke WOODLAND – Ceres Negros FC
James YOUNGHUSBAND – Davao Aguilas FC
Phil YOUNGHUSBAND – Davao Aguilas FC
Injured players: Javier Patiño, Amani Aguinaldo
Banned (yellow card accumulation): aisuke Sato
Source: PFF