How to Promote Football in the Philippines?
I've been a football or soccer fan since I was probably 12 years old. The very first people that influenced me were my high school buddies who were school football team varsities and a few others just simply soccer fans.


But the sad state of affairs of Filipino football is that it's still behind in terms of popularity and financial returns compared to basketball and boxing. The Philippine Women's Football Team have qualified the Women's World Cup this year. But there is not a single local media network that bid to be the local broadcaster.
Football fans like me are rare. We gather in online forums and share our ideas on how to improve this beautiful game in the Philippines.
Here are mine and have personally practice these.
1. Be a good person yourself. Start off with yourself. People will associate the thing you're passionate about. If for example, a non-soccer person close to you sees another soccer fan, he will also remember you. But if that person hates you because of your bad character, there's also a chance that he or she will also hates soccer. So, be nice.
2. Do not hate other sports. Somewhat related to number one, but I will emphasize it here. Some Filipino football fans literally show their hatred towards other sports like basketball, especially on social media in order to lift football as the preferred sport for Filipinos . These soccer fans don't do any good for soccer's advancement. Stop being hateful towards other sports, be friendly, and this friendliness attract friendliness towards soccer.
3. Be passionate about soccer. Simply be a fan. If you see a good video about soccer, share it on social media. The video may be about a good soccer player like Messi or Ronaldo showing their good skills. Show it to your friends. A simple share can have an impact.
4. Play the game or play it virtually. If you know how to play soccer, then play it. It's good for your mind and body. Occasionally, share some photos of you playing on social media. If you don't know how to play in real life, you can play it on a computer or phone. There is no excuse.
Years ago, when smartphones weren't smart enough, I used to have a PSP, a portable gaming device made by Playstation. I installed just two games, Tekken and FIFA 2007. My purpose was, if my friends want to borrow my PSP, they'll be forced to play either of the two games. My primary purpose was to promote soccer in my own little way.
Nowadays, you can easily install apps on your phone. Just go the app stores and download. There are also browser games you can "install" on your phones. Old popular site such as Y8 has about 118 football games, and a new site Plays has over 60 soccer-related games. There is really no actual installation, you simply save the page. Here is how to save a browser on an Android and here on iOS. Saving the page can save you a lot of memory space on your device.


You play these mobile soccer games on your free time, while in public places like in train or bus. Make sure to minimize the sound.
5. Volunteer, donate or help in soccer-related events. Volunteer as a coach, train young kids to play football. If you don't know how to be a coach. There's a lot of tutorials on Youtube. I learned coaching by watching videos. You can donate some cash or shoes to local teams in your area.
Below is the photo of me wearing a blue Brazil soccer jersey, posing with the kids I coached back in 2012.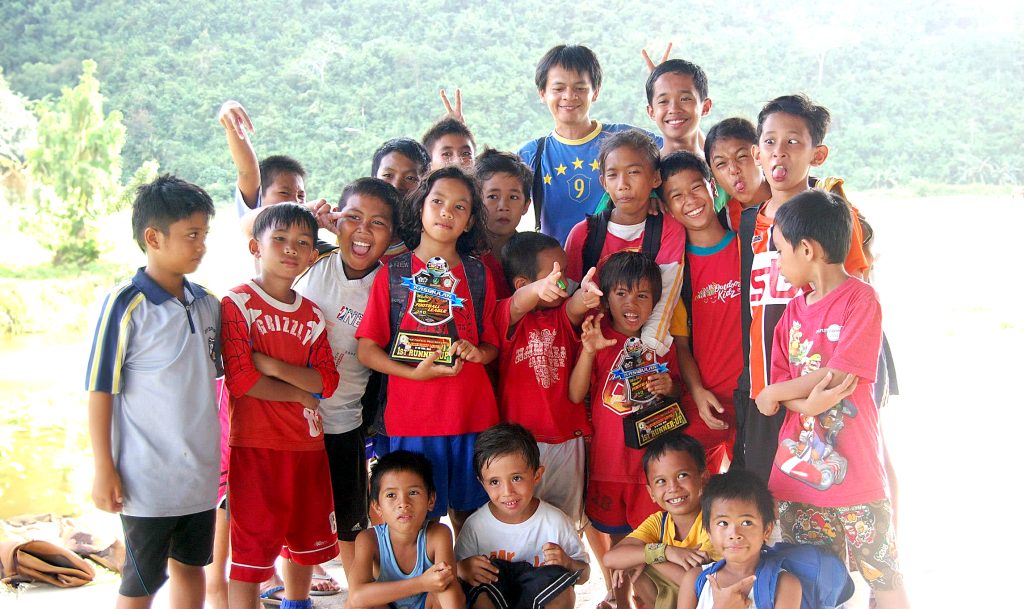 What did I miss? What is the best ways to promote football in the Philippines?